A Date with the Goblins – Camping near Goblin Valley State Park
A Date with the Goblins – Camping near Goblin Valley State Park
Over the weekend, we decided that we would go camping near Goblin Valley State Park. We were a little delayed getting started as Austin didn't end up getting off of a work until after 9. However since we figured he wouldn't get off until around 6 we booked a hotel halfway to Goblin Valley in Price, UT so we wouldn't be setting up late at night. This turned out to be a great move.
Camping in the actual park requires reservations but the BLM lands surrounding the park are available for camping for free. There were plenty of campsites that had fire rings already there. We were excited to find a great one.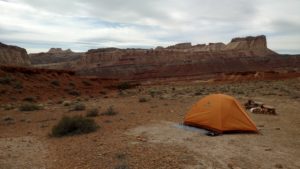 After setting up we went into the park and went for a hike on the Carmel Canyon Trail. While on the trail, we ended up taking a detour to Goblin's Lair and it was incredible. The detour Goblin's Lair made the entire trip absolutely worthwhile. Here are some of the photos from the Carmel Canyon Trail.
Now for some Goblin's Lair pictures…
Okay… clearly we were a bit obsessed. Seriously though, Goblin's Lair made the whole trip to Goblin Valley State Park well worth it. If you happen to go there yourself, make SURE you take the detour to check this out.
Here's the actual valley itself…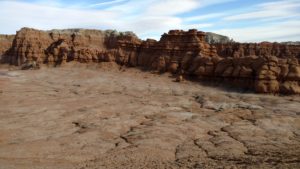 Once we got back to the campsite however, things got a little dicey. The wind was picking up on our way off of the trail and once we got back to our campsite it was so windy we were almost surprised to still find the tent in place. It was the night of the Duke-Carolina game so we listened on satellite radio and waited for the wind to die down. It didn't. We cooked on a propane grill and then settled in for a fairly sleepless night with the tent flapping all night. The wind got worse overnight so we packed up pretty early in the morning and headed back.
As we drove back to Salt Lake City, we noticed it was windy virtually the entire drive back and that night there was a massive front that came through with some inclement weather. I am not sure if Goblin Valley State Park is usually that windy or if it was an across-Utah front. I suspect the latter but don't quote me on it. Overall… definitely interested in going back. There were some other trails just outside of the park that would be very fun to try out if Dex wasn't with us (Little Wild Horse Canyon & Bell Canyon loop).
Currently reading: "The Secret" by Rhonda Byrne
Currently listening to: "The Power of Now" by Eckhart Tolle